WTC Final: New Zealand Knows How To Hit Back, It Will Be A Close Match, Says Ryan Sidebottom | Cricket news
NEW DELHI: The highly anticipated
World Trials Championship
The (WTC) final between India and New Zealand is just around the corner and former England left back Ryan Sidebottom feels the mega clash will be a very close battle between number one (India) and number two (NZ) Classified Test equipment in the world.
"You have to go with India in terms of the strength and depth they have in the players. But I think it's going to be a close match. New Zealand is always very competitive out there. And they know how to hit back." Sidebottom told Timesofindia.com in an exclusive interview.
India and New Zealand are already in the UK. New Zealand is currently playing a two-game test series against England. The first match ended in a draw.
With
Kane williamson
Being ruled out of the second test with a left elbow problem, Tom Latham has been given the charge of leading the Blackcaps in the second test.
Kane Williamson (AP Photo)
However, the Kiwi camp is confident that Williamson will be in a position to lead the team in the WTC Final against India, starting June 18, at the Ageas Bowl in Southampton. There will be a sixth reserve day for the WTC final, to protect the match against bad weather.
The Indian team, which arrived in Southampton on June 3, held their first group training session on ground adjacent to the Ageas Bowl on Thursday. This comes five days after they were allowed to train staggered in small groups in the run-up to the WTC final, starting next Friday, June 18.
We had our first group training session and the intensity was high 🔥 The preparations for # TeamIndia 🇮🇳 are on f… https://t.co/BXoIBDHOG9

– BCCI (@BCCI) 1623299846000
Sidebottom, who played 22 events, 25 ODI and 18 T20I for England between 2001 and 2010, feels that a clash between India and England in the WTC final would have been an exciting match to watch as well.
"It's disappointing not to see England (in the final). It would have been amazing to see India vs England in the Test Championship final. New Zealand will give India a match and I'm looking forward to seeing it as well, as it's the first time ( WTC final). It is important for test cricket and for the test cricket brand. I wish team India good luck, "the 43-year-old told TimesofIndia.com.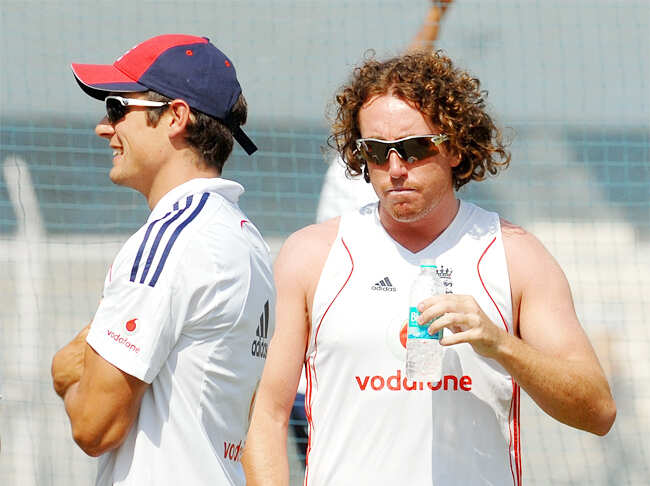 Alastair Cook and Ryan Sidebottom (Photo by TOI)
Sidebottom, who pulled out of all top-class cricket formats in 2017, played 3 Trials and 1 T20I against India. He was part of the English Test team that hosted India in 2007. Playing the first Test of his career against India at Lord's, Sidebottom fired VVS Laxman, Dinesh Karthik, Anil Kumble and RP Singh in the first innings. In the second inning, he got the grounds of Sourav Ganguly and Kumble. He claimed six wickets in the match that ended in a draw. In the second test at Trent Bridge in Nottingham, Sidebottom sent MS Dhoni back to the cabin for a measly 5. India had won that match by 7 wickets. Overall, England's pacemaker took 7 wickets in 3 Tests against India.
In the only T20I Sidebottom played against India (2009 ICC World Twenty20 group match at Lord's), he claimed two wickets. He fired Suresh Raina and Rohit Sharma in his assigned 4 overs, conceding 31 runs. The 6-foot-4-inch-tall Sidebottom was declared Man of the Match in England's three-run victory in that game.
When asked about his best memory of playing India, Sidebottom said: "Playing against India in 2007 in the Test series and bowling against players like Tendulkar, Dravid, Laxman, Ganguly and Dhoni, something really special. Try it. from Trent's bridge. I think I threw 19 overs for 20 runs in one day and I did it wonderfully. I got Sachin to play and I got a little lost, but I took a wicket. That's a special moment that I remember. "